Review: The Art of Clint Langley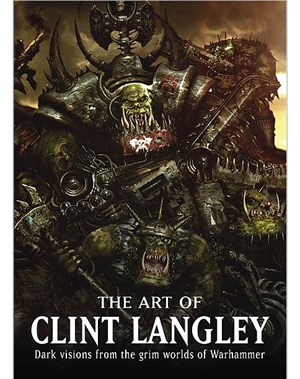 This was an good vision to my weary eyes. Clint Langley can really portrait the hardships and reality of the 40k. (Most of his work is on that ground). He has made some interesting book covers and some of them are among my favourites. (This is a bigger review from one previews one)
Caves of Ice by Sandy Mitchell is one of my favourite. He could portrait the fighting man of the Valhallan Ice Warriors. But my favourite poster (for they are propaganda posters) is For the Emperor.
Eisenhorn is another interesting piece of work. He has done some Ultramarines and Inquisition book covers. All good. Rogue Star is one of my favourite. One of the best is the Imperial Guard comic book cover. In this one he portraits the Space Wolves immensly interesting beings. They are Space Vikings. Dan Abnett on this story gave them life and they are one of my favourite chapters. Words of Blood one of the first anthology had a dark crimson setting (it reminds me of Mark of Chaos duology (Mark of Heresy and Mark of Chaos). They are quite similiar setting and figurines. In these ones I see the motto "In the grim far future there is only war". Necromunda covers are average... not the best by him. Storm of Iron is one of the best. But what can I say with the Malus Darkblade book covers? All of them excelent.
I know that I am saying that I like them all but there are some not so good. They are better than Forgotten Realms of Dragonlane two others worlds.
The problem of these covers I mention is the computer side. I enjoy seeing a good picture but they seem more computer generated than anything else. I would like to see some pictures without computer (or so much computer). Forgotten Realms or Dragonlance as I said are simpler but... they gave more of the artist than these ones. I am not saying is not good believe me. But in my mind I see more work on not-computer ones.